The bathroom is the one room in the house where a certain level of luxury and comfort needs to be in place and there is no pressure to stick to any particular style. We asked a few creative interior designers for some bathroom revamp ideas, and here are the best of their suggestions.
Bespoke Cabinets
This was the top comment: bespoke storage cabinets make good use of those recesses, and marble tops are perfect. This will give the room a fitted look and with the right use of mirrors, you can make the space larger than it actually is. Sultry LED lighting makes for a Disney style look and your bathroom will have all the storage space you need. The joiner would measure up your bathroom and create cabinets and shelving to make best use of space. If you are stuck for ideas on type of wood to use, the expert is always happy to help.
Stand-Alone Ceramic Bath Tub
The ultimate in luxury, the current trend is for a large oval ceramic bath. Check out the elegant units at the bath store Bracknell or your location has. You may be surprised to find great quality units at very affordable prices. Seeing a wide range of imported baths in a real-life setting is the best way to select a suitable tub, one that you will spend many hours in, relaxing after a hard day at work.
Mirror Wall Tiles
A smokey sheen on the walls would transform any bathroom. The bathroom wall tiles are easy to install; immerse yourself in luxury and if your bathroom is small, this will make it look more spacious. Your local bathroom showroom would have an extensive catalogue of mirror tiles and they also offer an installation service.
Stone Flooring
Italian marble tiles offer the perfect flooring for a luxury bathroom, while travertine is also a very popular choice. Long-lasting and easy to clean, marble or granite flooring would be fitting; natural stone isn't the cheapest flooring on the market but it will last a lifetime.
Walk Through Digital Shower
If you have the space, why not create the ultimate shower experience? Multi-directional jets massage your body, with tech that remembers water temperature. With a choice of glass pattern finishes, your shower screen can complement the decor. Your local bathroom showroom would have a wide range of digital showers and screening, all at affordable prices.
Textured Finish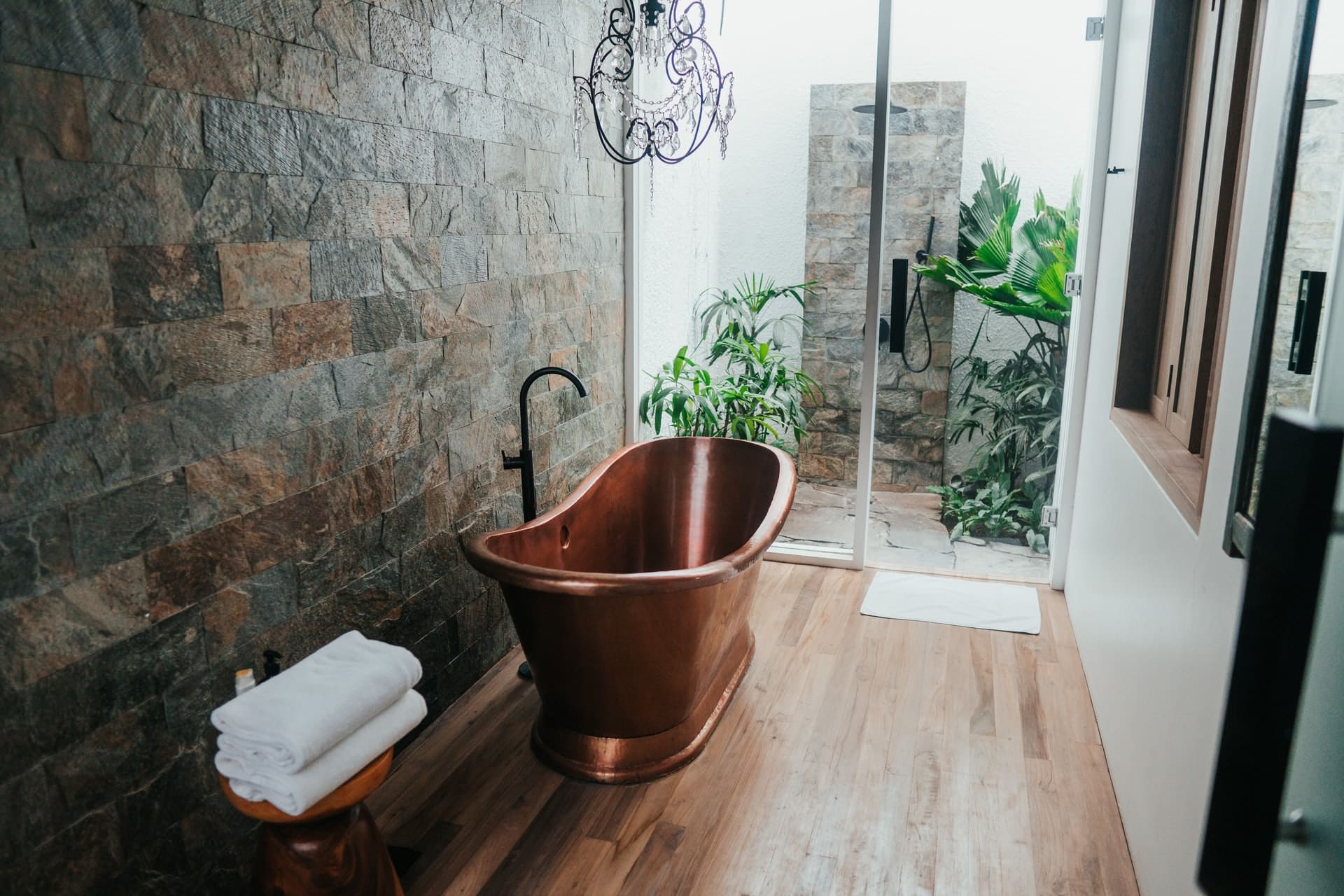 The stunning textured board cuts like timber is great for a single wall, opposite the window, which adds depth and can also affect the acoustics in a nice way. You can have a white textured ceiling using Artex or similar product. Search the web for some design inspiration and learn how textured surfaces complement a room.
Once you have worked out your budget for the bathroom renovation, take a trip to your local bathroom showroom and check out the wide range of fixtures and fittings they stock. The staff are great and know a lot about bathroom design and can advise you on any aspect of bathroom renovation.